When I received my Dipl.-Inform. diploma from the University of Hamburg, it arrived in the mail, together with a big fatty thumbprint on it. When I received my Dr. Sc. Tech. diploma from the Swiss Federal Institute of Technology, Zürich, I got it as part of a small ceremony. We wore suits and shook hands with Konrad Osterwalder, the University president, who then gave us the diploma. It was all over in a matter of less than two hours.
This weekend, I received my M.B.A. diploma from Stanford University, as part of an event spanning the whole weekend. On Saturday, in a ceremony of the Graduate School of Business, I received the diploma from the school's dean. On Sunday, in a large ceremony in Stanford Stadium, John Hennessey, the University president, granted us the title that we had worked towards for the last two years.
It is difficult to describe such an event if you haven't seen it before: People wear robes and funny hats, follow procedure and break out of it. The business school officials did their best to get us in line for the ceremony on Saturday. We had to walk a specific route, and we were primed to "shake then take" to make sure we first shake hands with the dean before we take the diploma certificate. Apparently, in previous years, MBA students had body-checked the dean to get the diploma.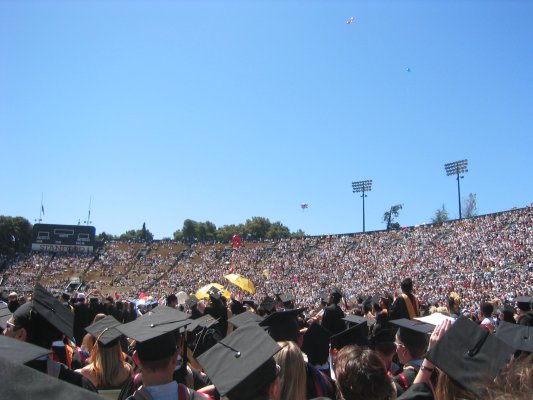 On Sunday, we walked single file (or not) into Stanford Stadium to attend the Stanford University ceremonial. We listened to Sandra Day O'Connor, the first woman on the U.S. supreme court, talk about building bridges to prepare the way for those coming after us. When it came to the actual degree conferrals, and the engineering students were called upon, one smart b-schooler shouted out "go build bridges". Fortunately, this went unnoticed, and unlike previous years, we were not booed at during our degree conferral.
One thing I really liked about the whole ceremony were the undergrads who made (some) fun out of the whole event. They walked the "wacky walk", a ritual were they break out of the prescribed order and start doing all kinds of funny (and silly) things like playing frisbee and else. This cheered up everyone not to take this whole procedure too seriously.
I have a cap and a tassel now, I have worn some funny clothing, and I enjoyed (and participated!) in a relaxed but interesting ceremony.
"It ain't over until it's over," as Yogi Berra once said. But now it is.
Dirk Riehle
June 13, 2004
PS: "Pomp and circumstance" is a sequence of 5 marches that are famously played at Anglo-Saxon celebrations. The first march is the well-known ceremonial one. They were composed by Edward Elgar.